Green Tea with a twist – Refreshing Cold Brew with Lemon and Lime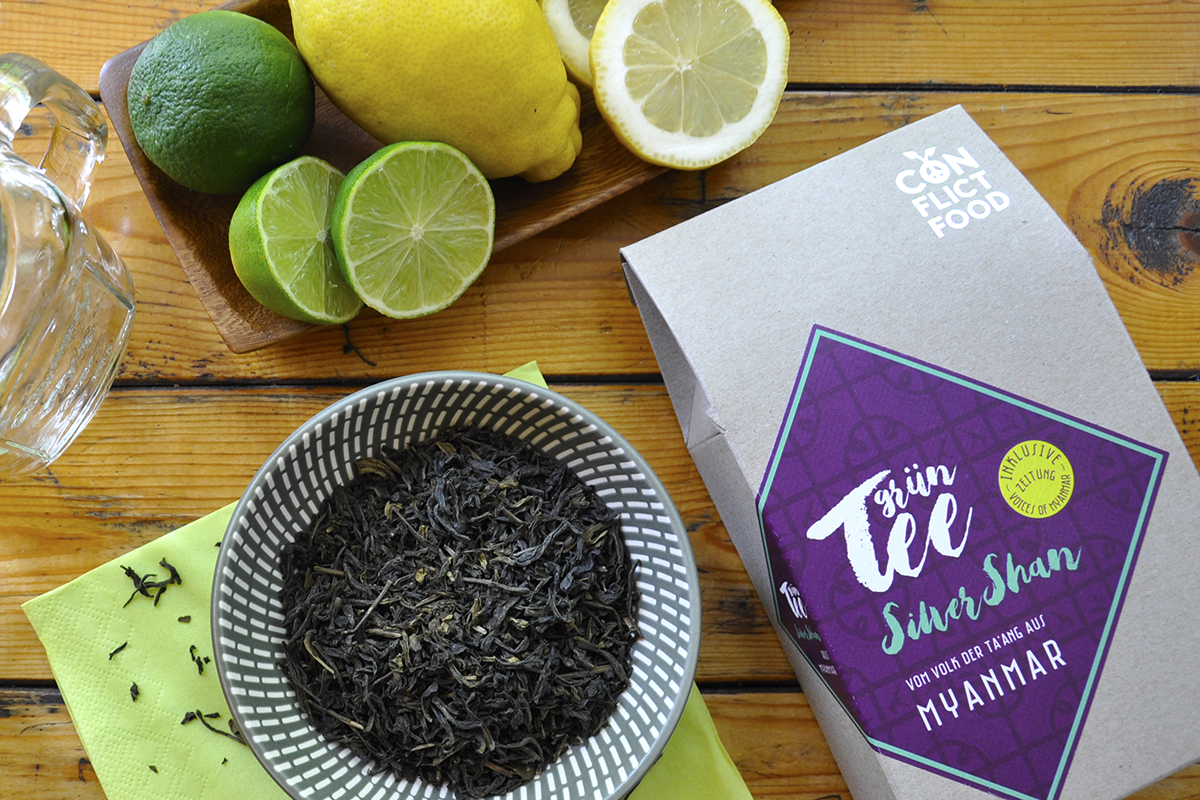 An article provided by our guest author Selina Reusser
here is something cool in our fridge!
Did you know that you can infuse and enjoy your tea ice-cold as well? With this method, you simply let the tea leaves steep in cold water for several hours. Conflictfood Green Tea Green Silver Shan is particularly suitable for this method because the cold preparation is very gentle, and the long steeping time helps preserve the taste and the nutrients, without making the tea bitter.
The preparation of a cold brew is not only very easy, but you can simply add sliced citrus fruits or herbs to your mix, if desired!
We've tried a refreshing-lemony cold brew with the Green Tea Silver Shan for you! The fresh limes and lemons make this infusion not only super refreshing, but the cold brew also has a detoxifying and energizing effect!
Have fun trying this refreshing brew!
Ingredients
1.5 liters of water
2 lemons
2 limes
4 teaspoons Green Tea Silver Shan
1 green apple sliced (optional)
Some cane sugar, if you like it sweeter
Ice cubes
1 large pitcher with a lid
Preparation Time
10 min to prepare and a minimum of 4 hours to let it steep in the fridge
Portions
4 glasses
Anleitung
Start by slicing the lemons and limes – since you use the fruit with peel, organic quality is always a good choice. Now put 4 teaspoons of Green Tea Silver Shan in a large pitcher. If necessary, you can fill the loose tea leaves in tea bags or later use a sieve while pouring. Now you can add the sliced citrus fruit to the pitcher as well, and then add 1.5 liters of water to your mix. If you like it sweeter you can now add some cane sugar. The mixture should now be kept in the fridge for about 4 hours or you can let it steep overnight.After everything had enough time to mingle, the tea is ready to drink. If desired, you can now add a green apple to the mixture before drinking it. For extra freshness, you can prepare your cold brew with a couple of ice cubes and serve with reusable straws!Did you know that you can simply refill your pitcher with fresh water to make a new batch? The tea will rebrew several times and the citrus still has plenty of flavor left. You can get up to 3 refills before your mix becomes too weak or too bitter.
The Conflictfood Team says – Cheers!
More recipes here: