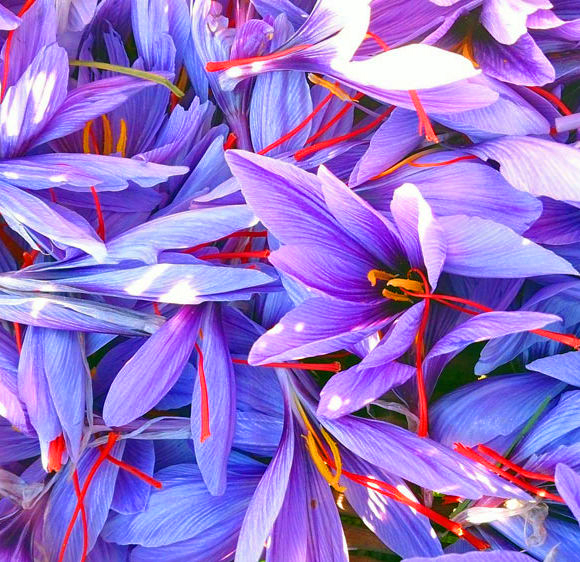 An article provided by our guest author Benedikt Radloff
Generally known as "Red Gold", saffron is a valuable spice originally from central Asia. But who would've expected this: Apart from that, one can find saffron in Germany as well. Presently, there are twelve saffron farmers throughout Germany. Boris Kunert for example, who cultivates the "Red Gold" in Stolpen, a small place near Dresden, Germany.
Historically, the bulbous plant, which Latin name is crocus sativus, was first recorded to blossom as early as the 16th century. Saxon historian Peter von Weiß reports saffron cultivation ocurred south of Leipzig, Germany, in the region between Meißen and Dresden.
Original text by Petrus Albinus, chronicles of Meißen, Germany, 1580
Boris Kunert, journalist by profession, made cultivating the dark red, precious spice in Saxon fields his goal. His attention was drawn while doing research work in France. He was promptly attracted:
"i was simply fascinated by saffron. when i found out about thriving saffron in austria and switzerland, iwas convinced that this will work in saxony too"
One could think, Saxony is not the ideal place for cultivating saffron as it grows mainly in middle eastern regions with dry climates. However, due to climate change, similar conditions can be found in Saxony.
Disregarding other farmer's thoughts, Kunert tested a small amount of saffron in his own garden. After a sucessful testing, the agricultural pioneer planted 30.000 saffron tubers in an area of several thousand square meters, and see what happened, in the following autumn his efforts bore fruits. Currently, his harvests developed and he gets between 400 and 800 grams per year.
Just like in Afghanistan the harvest in Germany is hard work. Firstly, the violet blossoms need to be picked, ere Kunert and his girlfriend are able to separate the fragile threads. The next step is the drying of the dark red threads in Kunert's own oven until its full aroma is developed.
You feel like testing saffron's taste by yourself?
Try both delicious saffron variants from different origins.
Much pleasure comparing!
Weitere Safranprodukte